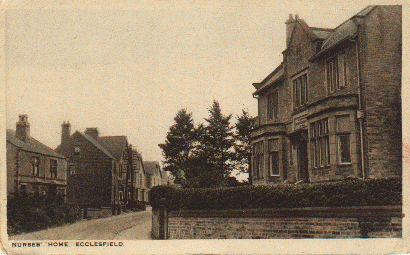 This was built as a memorial to Thomas William Jeffcock J.P. in 1901. Jeffcock, who died in 1900, was a mining engineer of Bank Street in Sheffield, who resided at Shire House, Ecclesfield.
This is not his only memorial in the village. The others were the stone built drinking fountain, originally built in a large niche in the southern wall of the parish church (and now erected in the park) and a horse-trough built near the old cinema at the foot of Chapeltown Road (which is now in the churchyard). All three memorials were erected from the proceeds of public collections.
The nurses who resided at the home were paid for by local charities and were employed in similar duties to those of today's district nurses. With the coming of the National Health Service, their duties were transferred to the hospitals and the Nurses' Home became a private house.
---