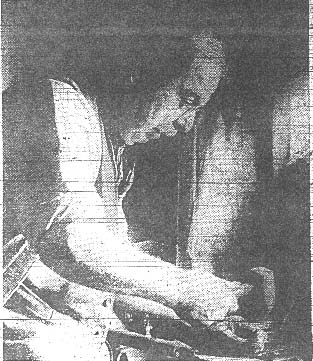 An article appeared in The Sheffield Telegraph on Saturday July 2 19381 under the following headline: -
File Cutter's Tools
Ecclesfield Relics For Museum
A collection of a file cutter's tools from Ecclesfield, near Sheffield forms part of the display of old trade relics in the Victoria and Albert Museum. The articles were bought from Mr. John Birkhead, who is the oldest and about the only hand "file cutter" at work in a little shop in Ecclesfield, where once some 400 people were engaged in cutting files by hand in their cottages, little shops, gardens or backyards.
Mr. Birkhead is 75 years of age and at 10 years of age he left school and began to assist his father and mother - cutting the first row (of each file)
For 62 years he has been in the trade and the tools now on view show signs of many years work. The hammer shaft is almost worn through near the steel head by the thumb imprint. For 60 years he has done work for Messrs. Walter Spencer & Co. "I shall cut files as long as I can sit astride the old stock." Despite the introduction of machines he is of the opinion that there are no files to equal the "hand cut" which are used for the finest jobs today and command a good price.
---
1. Newspaper Cuttings Relating to Sheffield. Volume 44, Page 45. 942.74S - from Sheffield Local Studies Library
---