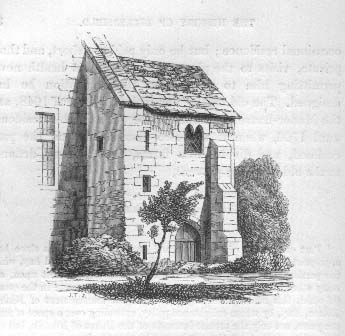 It was customary for the owners of estates to assign a portion of the rent or indeed a portion of the estate itself to a religious foundation. The effect of this was that an enormous proportion of property was in the hands of the Church, even in Saxon times.
Countess Judith endowed the Benedictine Monastery of St. Wandrille, in Normandy, with estates in Northamptonshire, and perhaps due to her influence in Hallamshire, a small satellite from the parent house settled in Ecclesfield. When this took place is not certain, but if evidence given before Parliament in 1376 is to be believed, then the Priory was founded three hundred years before that i.e. in the late 1000s.
The first record of monks in Ecclesfield is in 1141, when amongst the English possessions of the abbey of St. Wandrille are "Aiglesfeld, a church with chapels, and tithes, and one mill." The abbey's ownership of the church in Ecclesfield is confirmed in documents from the early 1300s, which state that Richard de Lovetot, at the time of Henry I, gave the church to the Abbot of St. Wandrille. The first priory must have been a small affair, sited just north of the present church. The site is now occupied by a private house, which was once called Ecclesfield Hall. This building incorporates parts of the monastic chapel.
The monastic settlement in Ecclesfield grew slowly over the years. This growth is confirmed in two inventories dated 1324 and 1337. In 1324 the total of the valuation was £30/17s/1d, which had grown to £46/1s/4d in 13 years. The priory was an "alien" establishment, entirely administered from the parent abbey in Normandy. This caused problems when England was at war with France, as happened several times during the 14th century. For instance, in 1337, the King got possession of all the alien priories. These he let out for a period of 23 years, then in 1361, hostilities having ceased, he restored them to their former owners. Finally in 1386 the priory was seized by the Crown for a final time, before being given to the Carthusian Monastery of St. Anne, Coventry. It is believed that no Carthusian monks were ever stationed at Ecclesfield, but the estate was farmed out to someone in the neighbourhood who converted the monastic buildings into what became Ecclesfield Hall.
At the dissolution of the monasteries in 1539 the entire estate and the patronage of the church of Ecclesfield passed to the Earls of Shrewsbury and by marriage to the Dukes of Norfolk.
---