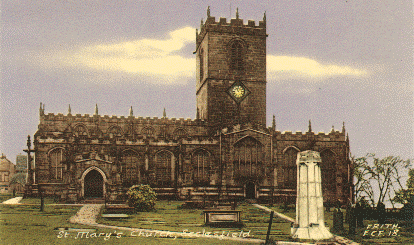 St. Mary's Church
The wealth of stained glass in the Church would appear to have suffered in the time of the Commonwealth. Vicar Knutton was in charge when an Act of Parliament was enacted in 1643, that "all representations of any angel or saint in any…parish church…was to be taken away, defaced and utterly demolished."
The present font was made in 1662, thrown out of the Church in 1825, as it was no longer fashionable and re-instated in 1852, when Dr. Gatty made alterations to the Church.
In 1701 "John Poynton of Sheaffeild, glasior & plumber…agreed to maintaine & uphould the said Church Windowes during his life, haueing duly Payd unto the said Jo: Poynton…the sum of one Pound fiue shillings the first yeare & twenty shilling yearely afterwards."
"The Church was beautified in 1713, agreed with ye Mason Isaac Boaz to plaster it with two coats…It will now need nothing but washing over to keep it decent & clean wch may anytime be done for 3li as has been offer'd by Whitener."
"The painting of ye Queen's Arms, ten Comandmts &c. cost (together) 24li, besides 5li which was given for the gold."
The Church records list payments for all kinds of sundry activities including a bounty paid for the destruction of animals then classed as vermin. Badgers or bawsons, were worth a shilling a head, a fox cub's head, sixpence and hedgehogs or urchins 2d.
In 1823 ambitious plans were implemented to completely alter the internal plan of the Church. This resulted in an increase of seating to 1196. Galleries were built and the chancel arch blocked by the organ. The work cost £2151 and was paid for by a rate levy of one shilling in the pound, £600 was given by the Feoffees and the rest donated by the Society for the Enlarging &c. of Churches.
In 1839, the Rev. Thomas Ryder, who had instituted the alterations, died, and was succeeded by the Rev. Alfred Gatty, who was to exert a profound influence over the parish until his death in 1903.
---