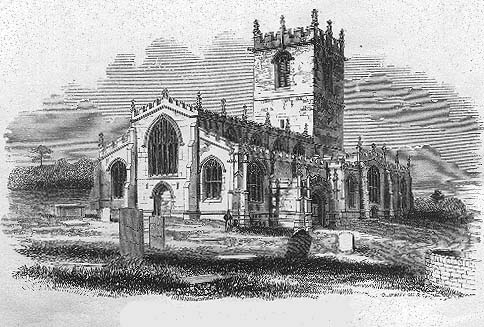 Ecclesfield Church from the South-West
"The populous parish of Ecclesfield...is situated north of Sheffield. The village is distant from the latter town four miles and a half and has a population of seven thousand one hundred and sixty-three persons. The duke of Norfolk is lord of the manor, owner of the rectory, and patron of the church.
Some portion of the manufactures peculiar to Sheffield is found here. All the nails manufactured in Hallamshire are made in this parish, which produces coal and ironstone. At the village is a cotton factory; but still the general character of Ecclesfield is rather that of an agricultural than a manufacturing district."
This was how Thomas Allen described the village in his A New and Complete History of the County of York, Vol. 5: I.T. Hinton: [no date]
The cotton factory is a clue to the date of the above quote. In 1862, Eastwood in his History of Ecclesfield, refers to "...a handsome sheet of water, which supplies what was once a cotton mill, but in which for some years past Messrs. Gladwin...have been carrying on a considerable manufacture of paper" (see Cinema Area Map ) The paper mill was certainly in use at the time of the 1851 Census of the village.
---
Explore the history of the village by using the navigation buttons below,